California is a community property state. This means that all assets accumulated by a married couple during their marriage belongs equally to them both. When they divorce, those assets are legally to be divided equally between the spouses.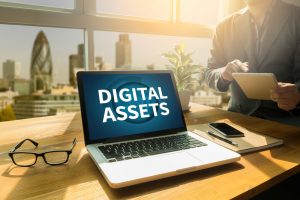 A problem occurs when one or both fail to list assets. When it comes to digital assets, this failure could be accidental or intentional. You need to know what digital assets are and how to identify them.
What are Digital Assets?
Digital assets are not tangible. They include:
Photographs stored on a shared computer.
Video and musical collections stored on shared computers and other electronic devices.
Books downloaded on a shared Kindle or other eReader.
Movies stored on a mutual device.
Bitcoins.
Video games.
Digital artwork.
Cryptocurrency.
Non-fungible tokens (NFTs).
These are just a few examples. The assets need to be divided and there may need to be some creative solutions to this. For example, they may need to have a professional access the photographs and do what needs to be done so that each spouse has a set of the photographs in question.
Collaborative Divorce and Division of Digital Assets
Collaborative Divorce offers the spouses a way to divide these assets in an amicable way. Each party must be forthcoming in identifying any such asset they may have purchased with community property. Then they can discuss how to divide these assets in settlement negotiations. There may be trade-offs. For example, one may decide to keep the videos and the other one may decide to keep the audio collection. They may divide the bitcoins equally.
The Penalty for Failing to Disclose an Asset
Courts are harsh with spouses who hide assets. In one case, a spouse hid the fact that he won the lottery from his spouse. As punishment, the court awarded the entire value of that asset to the spouse from whom the asset was hidden.
Heberger & Company – Divorce Financial Professionals
At Heberger & Company, an Accountancy Corporation, we are a firm of professionals that assist couples going through a divorce. We analyze each asset, its value, and the tax consequences that each party will face if given a particular asset. We are experienced in solving the problem presented by the division of digital assets.
We work with the individual spouses and their divorce attorneys to make a plan that is fair to both parties. Contact us for more information. You may also call us at 559-227-9772.