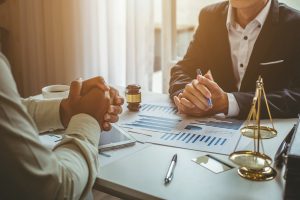 When you originally put together your partnership agreement, it is likely you did not think about what you would do if your business partner got divorced. If you did, and it is happening now, review your partnership contract and comply with its terms. If you did not include a provision, you may be stressed thinking about how your partner's divorce will affect your business interest.
You will not be a party to the divorce. The court will have no jurisdiction over you and cannot order you to do anything. But in California, a community property state, your partner's spouse is entitled to half of your partner's share of the business. This can be a stressful time for all involved.
Valuation of the Business
This can be an upsetting experience. You will have professionals going through the financial business books and examining the state and federal tax returns of the business. This can be disconcerting, but keep in mind that this will not trigger an IRS audit.
The valuation of a business for family law purposes is different than the valuation for a sale of the business. For family law the valuation is expected to be fair value without any discounts or premiums. Valuation for an arm's length transaction between a willing buyer and seller is fair market value.
View this as an educational opportunity to learn about how businesses are valued. For example, note how goodwill is determined and how personal use of business assets factors into the valuation process.
Your Role in Your Business Partner's Divorce
You will be required to produce business documents in response to a discovery request or court subpoena. You will likely be asked to provide testimony to confirm that the valuation is correct and that you agree with the list of assets and liabilities.
If you and your partner are 50-50 partners before the divorce, there is really nothing you can do to prevent the ex-spouse of your partner from becoming a 25 percent owner of the business. So, now it will be you owning 50 percent, your partner owning 25 percent, and the ex-spouse owning 25 percent. You will be a majority shareholder and the one who can make decisions as to the direction of the business and strategic developments in the company at shareholder meetings.
Unfortunately, you can expect decreases in salary, revenue, net profits, and distributions in the year immediately following the divorce. This is common, but you can also expect business to rebound.